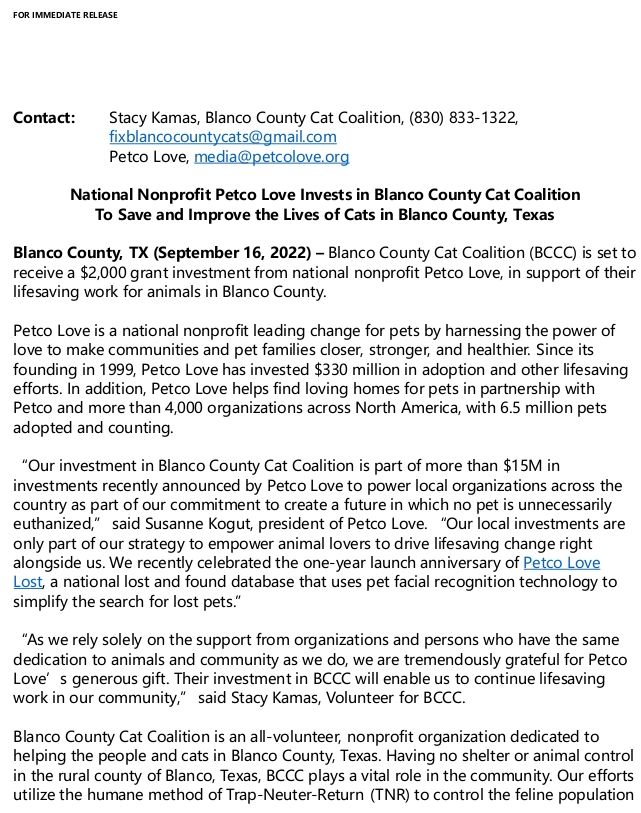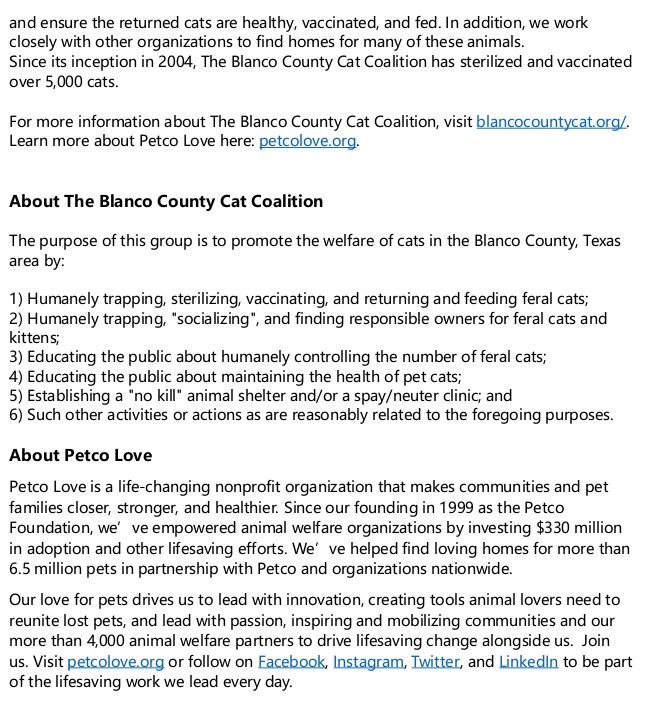 LOW COST SPAY/NEUTER & VACCINATION services are available to any resident of the Hill Country. Financial assistance to cover all or most of the cost is available for residents of following counties: Gillespie, Kerr, Llano, Mason, Burnet, Blanco, Kendall, Bandera, Kimble and Real.
www.hillcountryspca.com/pet-help

Choose BCCC as your Amazon charity of choice at no cost to you, and we do receive a small amount every time you make a purchase via Amazon.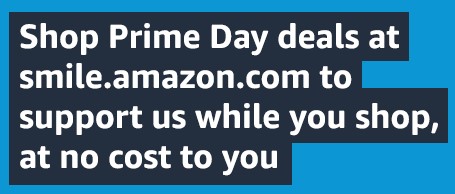 Our Blanco County non-profit volunteer group has been serving the Blanco County area since 2004. We provide assistance in three essential service areas:
Focus: Feral Cat Trap-Neuter-Return,
and When Resources Are Available: Adoption and Emergency Pet Shelter
We do not receive tax-based monies. We rely totally on volunteers and donations to sustain our organization and provision of services.
We are usually available for presentations about these services. We welcome an opportunity to help inform the public.
We can make a brief, informative presentation on our purpose, methods and on-going actions and results.
This is a very worthy and deserving cause.
We can provide information in advance for your distribution.
Simply call or email us using the contact information accessed from the tab in the menu above.
We are a 501(c)(3) non-profit organization. Contributions are tax-deductible to the extent allowed by law.
We need your help to continue this vital work. Please send whatever you can to help BCCC.
Details on this process are accessible from the tab in the menu above.
Volunteers and donations are always welcomed.
Our mission statement is as follows:
FERAL CATS & TNR SERVICE
Feral cats live in our parks, military bases, alleyways, farmyards, barns, college campuses, and deserted buildings. Abandoned by their human families or simply lost, unsterilized house cats eventually band together in groups called colonies. Without human contact for a prolonged period, the cats become feral (wild). They make homes wherever they can find food and shelter, be it in dumpsters or under a boardwalk. Kittens born into this environment instinctively avoid humans and may never be socialized. And their numbers steadily increase, even if meager scraps are all the food to be had.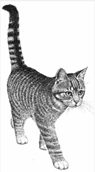 No one knows exactly how many feral cats live in the United States, but the number is estimated in the tens of millions. They are often wrongly portrayed as disease-ridden nuisances living tragic lives and responsible for endangering native species. As a consequence, feral feline communities too frequently are rounded up and-because they have had little or no human contact and are thus unadoptable - they are killed.
But removing and killing feral cats, or relocating feral colonies, does not reduce feral cat populations. It only provides space for more cats to move in and start the breeding process again. Un-spayed feral female cats spend most of their lives pregnant and hungry, as will the female kittens that survive. Un-neutered tomcats roam to find, and fight to win, mates and often suffer debilitating wounds in the process. Half of all kittens born in feral colonies die within their first year.
The Blanco County Cat Coalition has a solution that not only reduces feral cat populations, but also improves and extends the lives of colony members:
Trap-Neuter-Return (TNR)
YOU Can Make A Difference . . . . .
You can help BCCC to protect feral and stray cats in the Blanco County area. Your donation could save one, or many cats' lives. Please mail your contribution today or click
Donations
for on-line giving.
More Background: What Makes A Cat Feral?
A cat becomes feral (wild) if he has little or no human contact during the first few weeks of life or is a lost or abandoned domestic cat (stray) that over time reverts to a wild state.
Myths and Facts about Feral Cats and TNR:
MYTH:
Feral cats can be eradicated by trapping and killing.
FACT:
Many decades of eradication campaigns have done nothing to reduce the numbers of stray and feral cats. Survivors breed exponentially; new cats move in, and reproduce, to take advantage of whatever food and shelter exist. This is called the "vacuum effect."
MYTH:
Feral cats present a high risk of spreading rabies.
FACT:
Rabies in the U.S. is overwhelmingly a disease found in wildlife. From 1990-2002, only 36 people died from rabies in this country, and not one of them contracted the disease from a cat.
MYTH:
Feral cats are sickly and diseased.
FACT:
Scientific studies show that feral cats in managed colonies generally enjoy the same good health, fitness, and low occurrence of disease enjoyed by pet cats.
MYTH:
Feral cats are a significant cause of bird and wildlife depletion.
FACT:
Numerous studies by government and environmental groups indicate that the overwhelming causes of wildlife depletion are destruction of habitat due to human development, man-made structures, chemical pollution, pesticides, and drought, not feral cats.
TNR: Trap-Neuter-Return, It works!
TNR is a proven procedure in which entire colonies of stray and feral cats are humanely trapped, then evaluated, vaccinated, and spayed/neutered by veterinarians. Kittens and tame cats are adopted into homes. Adult cats too wild to be adopted are returned to live out their lives under the watchful care of sympathetic neighborhood volunteers.
TNR works. The breeding stops. Cat populations are gradually reduced. Nuisance behaviors associated with breeding, such as the yowling of females or the spraying of toms, are virtually eliminated. Disease and malnutrition are greatly reduced. Ongoing care creates a safety net for the cats and the community.
Part of our community.
ADOPTION SERVICE
We encourage and try to facilitate a process for adoption of cats. To the best of our knowledge, these cats are healthy, neutered, vaccinated, and ready for a loving family. We have recently adopted out over a dozen beautiful cats to new homes. Each available cat is profiled with a picture and a bio. They are showcased on our Adoption page accessed by clicking the tab in menu above. All adopted cats are returnable. However, because of the limited availability of volunteers and funding, we are not usually able to foster or shelter cats. See full details including adoption policies on that page.
EMERGENCY PET SHELTER SERVICE
Subject to available volunteers and donated funds, we attempt to provide the staffing, equipment and supplies to operate the Cat Section of our Blanco County Disaster Response Group's Pet Shelter in times of an emergency, and most likely in conjunction with our Red Cross Shelters in Johnson City and Blanco.
BCCC MEETING SCHEDULE

We meet 3rd Tuesday, every month,
at the Blanco Library, from 6-8 pm
,
with exceptions as noted below.
Meetings are open to all. New members and volunteers are always welcome!
Please join us!
However, during the near term at least, meetings are not taking place due to Covid pandemic.

To make a donation via PayPal, please click "Donate" below:

(If you would like a letter of acknowledgement or wish to be on our email list,
please complete the "Instructions to BCCC" section of the PayPal form after you click donate.)


After donating via PayPal, we will receive notification from them of your donation payment.
Thank you so much!